Angela Merkel, Potsdam, Germany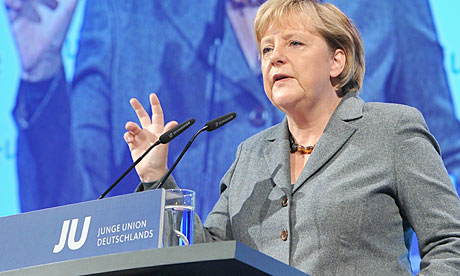 "At the start of the 60s we invited the guest-workers to Germany. We kidded ourselves for a while that they wouldn't stay, that one day they'd go home. That isn't what happened. And of course the tendency was to say: let's be 'multikulti' and live next to each other and enjoy being together, [but] this concept has failed, failed utterly....For several years more people have been leaving our country than entering it...wherever it is possible, we must lower the entry hurdles for those who bring the country forward....Germany should … get tougher on those who refuse to integrate before opening itself up to further immigration."
- Chancellor of Germany, Angela Merkel
Response

:

They who, Angela? The Arabs, Turks, Asians, Africans? Who? The Jews, the Muslims, the Sikhs, the Scientologists? Who?
Multiculturalism is a failed project but not for the reasons Merkel points out, she's playing to the gallery because there's a lot of discontent within the party and conservative Germans over immigration. Multiculturalism's like this trendy thing Europe thought they'd name integration as a way of appearing progressive so the EU pressed full steam ahead with policy, but multiculturalism is impossible without first exorcising history's demons and poverty - Merkel needs a reality check. Multiculturalism failed because Germany didn't make it work. Granted it's not an overnight job as the Germans themselves took long enough to get along, but Merkel's not exactly been pro-multikulti or pro-immigration in her policy and strategically distanced herself on these issues so whose collective failure is she talking about? The Financial Times estimates say there's a skills shortage of about 400000 jobs in Germany and but they suggest that this gap can be filled by employed skilled migrants but visa restrictions prevent non-Germans from having certain jobs - so how do people work? Declaring multikulti has failed when you haven't even tried is a bad political tactic, it's evident that resorting to populist rhetoric is def-o a sign of desperate times, I guess the Baden-Wuttemberg 2011election
is not looking too great then, Angie?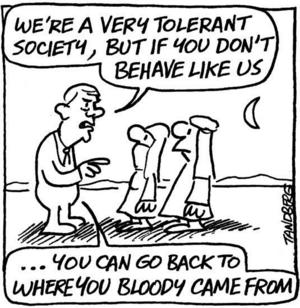 IMO multiculturalism's more of a Eurocentric cultural project that legitimises the consumption of 'the exotic other' by celebrating diverse cuisines, music and languages, but it doesn't engage people. Governments purposely build ghettos by ethnicity then in a schizophrenic twist embark on projects to de-radicalise 'the other' and pour money into fostering social cohesion to keep things calm...some work, some fail, but at the heart of it: it's the economy, stupid.
Integration supposed to be the aim of multiculturalism but it's really just mainstreaming everyone into the dominant way of life, a kind of inclusive exclusion - thou shalt not wear a hijab or burkha, but thou shalt speak one standard French and remain in your poor, segregated ghettos. When the ship goes down, blame it on the poor and the migrants, same ol' same ol' and there's much more of this kind of populist talk to come the tougher things get.