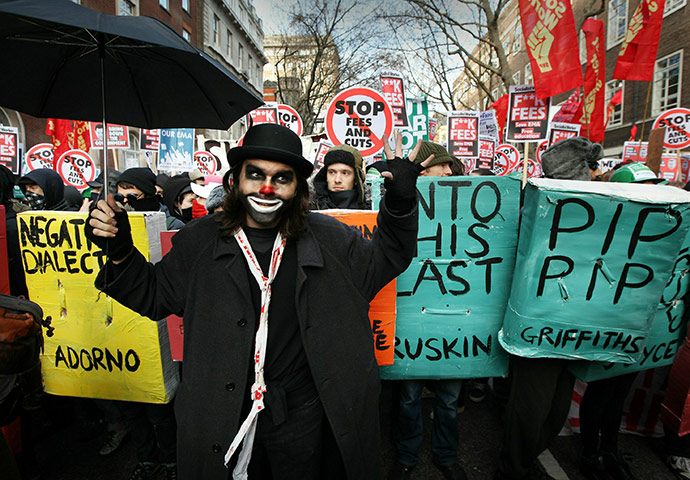 Although I'm an international student close to the end of my education in the UK, today [last Thursday] I went to the march in solidarity with the home students and also to protest against the fees rise for international students, that is a less-spoken about but very real consequence of the government's yes vote tonight as this new fees structures follow. If international students are paying between £9000 - £15 000 tuition fees in cash per year, what will those of the future pay? And with university funding cuts looming, there will be serious cutbacks in grants to international researchers and fellows who contribute immensely to global academic development and research.
Anyway, I got to Trafalgar Square at about 3 p.m and there wasn't much happening there so I walked down through St James's Park to try and get to Parliament Square, but the police had formed a human barrier so there was no way I or any of the other students milling about, could get in there. One officer suggested going round the other end to see if it was open. A disparate group of about thirty of us went and happened to meet up with a larger group of protesters (maybe 300), so we marched with them to Westminster Abbey. Upon arrival the police were already shouting 'get back get back' while those on mounted horses looked on. As we got closer there were scuffles between officers and protesters, admittedly some protesters did incite the police by shoving them and shouting abuses, but the police response was disproportionate, heavy handed and aimed at everyone. There were several times I could have been struck, despite the fact that I wasn't standing on the frontlines or mouthing off. It was a tense scene but we continued chanting and dancing to music for about half an hour then decided to find another way into Parliament Square as the police weren't letting us through.
This part of the march was kinda fun, it was like a cat n mouse game - every time the police appeared to be on the approach those at the back would blow a whistle and we ran through the streets shouting 'Whose Streets, Our Streets', Twitter was also quite good because people would post messages of where not to go or where to go. In the end we got kettled though but this came out of the blue because at that time people were chanting and some dancing to music. Like cowards, they snuck up from the back all suited up in riot gear and some on horses - all this to control an at the time, non-violent crowd. As if on cue, people fought back and threw punches that landed on the police's shields and protective headgear. Polic
e on foot would repeatedly charge into the unarmed crowd with baton sticks in hand and force people to move backward. The more they did this is, the more irate protesters got and retaliated with some picking up the kettling fences and throwing them at the police which wasn't a wise move, because it only made the cops respond with even more violence.

(Looking back at some of the pictures, I wonder if some people had been hired to stir-up trouble. It's just my feeling, but I think some people were there for the trouble not the protest. I have no proof at all, but I'm writing this here in case it can be proven, somebody post a comment below.)
I didn't want to caught up in anything so I moved to the outskirts of the crowd that was marshalled by mounted officers, but

I got scared by one of the horses when I was backed up by a wall and in that moment there's absolutely nothing one can do, but pray that horse doesn't go beserk. The last thing on my mind was moving but a mounted

police woman saw me by the wall and instead of telling her colleague to move, she kept shouting at me 'keep moving keep moving!' I didn't respond and I didn't move. She came towards me, still shouting at the top of her voice until I finally said, 'I can't move' and pointed to the horse in front of me. But she was insistent saying 'you can, you can, move!', this went on for about 3 minutes till the male officer on the blocking horse moved on. It was scary being caught up in that.

If I were a guy and wasn't such a pain-phobe, I might have swung a punch at one of the footed officers as revenge because I was scared but also very pissed off after that.
Inside the kettle

people were lighting flares, chanting and the mood was good some of the youngest protesters I met in the kettle were about fifteen and this was the second time that some of them had been kettled, I felt sorry for these kids especially when overhearing one officer ask

another of his colleagues if there were any young kids and if they would be let out, his colleague simply shrugged his shoulders and went about his business. Perhaps students and parents should petition the

government to bring in a no under 16 rule for kettling - if kids as young as 15 were held on Westminster Bridge until midnight, what does that say about a supposedly progressive nation's opinion of children and respect for human rights .The younger kids are normally not the violent ones - check the videos on The Guardian and BBC websites of all the protests if you don't believe me, I challenge you to post a link of a video where you see mobs of 12-15 year olds smashing up anything. There's no reason why they should be kettled. I asked one officer why we were being kettled and he said 'I don't know we just got orders'

and he suggested I write to the IPCC to make a complaint. I will be writing to them and so should anyone who feels the same way. There was one officer who was pretty decent, he explained why we were being kettled and the law to we'd violated, he said 'I don't wanna be here here just as much as you and I don't wanna do this but I have to. I'd rather be at home with my kids.' He then asked about the vote and I didn't know what the result was and he said he'd hoped we'd won. I guess he knows his own kids' future is at stake too.

I managed to get out of the kettle after seven, the police were letting out only two people at a time and me and a journalist from Amnesty International (judging by his press pass) got out because the officer said we looked like 'reasonable people'. I consider myself very fortunate to have been let out, but as I walked down to Victoria station, I felt guilty having left others there, especially after hearing that people were kettled up until after midnight.
As for Camilla and Charles, they got caught up in the moment, and this is the first time in a very, very long time that Brits have attacked the royal family - and for these students it wasn't because they were anti-royalist but because Charles and Camilla represented the establishment and birthright of privilege and they appeared at a moment when news of the lost vote (voted for by millionaires and inheritors of trust funds) and police brutality had upset enough people. W
hile Charles and Camilla have the right not to be attacked and it wasn't wise move to poke Camilla in the ribs, I don't understand why that and Charlie Gilmour's picture swinging from a flag on the Cenotaph has dominated the news so much. There were dozens of injured protesters and officers, but their stories didn't make it to the headlines.
On Twitter Gilmour and Cenotaph have trended for two days, yet not once did Alfie Meadows make it on the trendlist - both tell very different but related stories of the protests. For me, Charlie Gilmour's image is a great picture, not because he's Pink Floyd's son, but it's a money shot, it's better than the Charles and Cam one aesthetically speaking so, kudos to the photographer. Beyond the aesthetic, swinging on the Union Jack against a national monument is the ultimate symbol of defiance and disregard for enforced collective remembrance of soldiers who died at war. Of course I'm sorry that people had to lose their lives on the battle fields, but the constant hero worship of Britain's wars is lost on me sometimes. The Cenotaph swinger and the paintballed Winston Churchill images symbolize a disaffected and frustrated youth who are the alter-face to the millions of young people who've been drafted to fight in wars not of their own making. Did the youth who lived through all of Britain's wars not stand up to their government in protest to the war and 'vandalise public property'? History looks back on these young people as heroes of their time and today when a young person does something albeit mischieveous, but anti-establishment, the Prime Minister and all his co-signers and war romanticists are frothing at the mouth calling for Gilmour's head and the other 'feral anarchists.' F
or what e.x.a.c.t.l.y? Having the guts to say f- the system? Pissing on a statue and swinging from a flag? How can symbols, slabs of concrete, be more staunchly defended than the future of higher education and research? Should the police have come down so hard on Gilmour, the pisser and the paintballers that they'd end up like Alfie Meadows in need of brain surgery after being bludgeoned, is that what people want to see? Or perhaps it's so they wouldn't have to hear of student 'hooliganism' and they can congratulate The Met on a fine job while the story of Alfie Meadows gets pushed away further and further from the headlines. Camilla got a poke, Alfie got truncheoned, but the Camilla and Charles story dominates the news because they are famous people and Alfie is not. That is all.
Alfie Meadows
Winston Churchill may be Britain's hero, but he is not my hero. As an African, I see Churchill as belonging to the imperialist establishment and he was a supremacist who made sure Africans from Sudan to South Africa would submit to British colonial rule in one way or other, so seeing protesters throwing paint balls or pissing on statues doesn't enrage me, in the slightest. It's a little amusing actually. But one person's amusement is another's vandalism worthy of an arrest - even the death penalty for some of the looney right. But I think the bigger vandals are those known as the Lib Dems who pretended to defend education, but changed their minds as soon as they'd made it into Westminster. The physical mess might be cleaned up within a few days, but who will clean the mess being made of higher education by the coalition government?
Despite being contained and the news the coalition government had won the vote, the education fight isn't over, as someone said to me in the kettle that night, this is just one battle in a war. While
Home Secretary, Theresa May, child of Thatcher might think water canons are a justified response to the violence, I say bring it on. One water canon truck costs £750 000 or the full tuition fees 83 students funded through uni at £9000 a pop! (Mehdi Hassan) Or the Educational Maintenance Allowance of 580 of Britain's poorest 16-18 year olds per year, or the annual salary of 32 police constables. In this time of 'austerity' and ideological cuts, if the Brits want to pay almost a million pounds for one water canon truck to spray revolting students, I say game on, let's do this! Buy ten if you like!
UPDATE 1: Theresa May's backtracked and has ruled out the use of water cannons because it wouldn't be a popular choice. I'm a little disappointed the government came to it's senses so quickly, a few more giggles at the implausibility of this plan would have been nice. But still it's a good move, it really isn't the 1960s again.
Ki Price said:
Just wanted to say thank you to the person talking about Charlie Gilmour swinging from the Cenotaph, I'm the photographer who took it Ki Price and I thought that was a nice compliment.
Pictures jacked from The Guardian (1,6), Indy Manchester (2) The Telegraph (3, 5) Sky News (4)
Please note this post was written over several days.